Growing up I really didn't like reading. I saw it as a bore and a waste of time. It was even hard for me to stay awake while reading the Bible. Over the years God has put in me the desire to read. I sometimes find myself reading late into the night a good book I felt I just can't put down. I thought that I would share with you some of the books I like.

1.Left Behind: The Kids. These books are about 4 young children who somehow have heard about Jesus, but haven't given their lives to Him. The rapture occurs and the 4 of them are left to fend for themselves while their family and friends have been taken up into the clouds. Judd, Vicky, Lionel, and Ryan all meet and unite and receive Jesus. They are left in the tribulation, fighting for their faith and lives. I have books 1-8 and so far they are really good. Can't wait to get the rest of the series. There are 40 books!!!
2.Elsie Dinsmore Classics: Book 1: These books take place on the southern plantations of Roselands, The Oaks, Ion, Viamede and Woodburn. Elsie is a young girl whose mother died during child birth and father despises her. He feels as though the child had taken away his lovely wife. Elsie must learn to obey her ungodly Papa's every command as long as they do not interfere with her biblical notions. Elsie father learns to love her and Jesus after time. Through out this series you feel the love and laughter (and you'll probably cry). The Elsie Dinsmore classics have 28 books. I am up to number 3...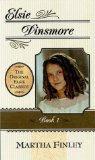 3. The Shiloh Legacy: In My Father's House. I have just started this series by Bodie Thoene. They are about 4 young main men fighting in WWI, risking their lives for freedom and peace. Birch, Max, Ellis, and Jefferson's stories are shared and through the struggle of the Great Depression, God works in the midst of it all. This book has different story lines, which is a highlight for me in books. They keep you suspenseful. I have finished book one, am up to book 2 and there are 3.
In My Father's House
(Shiloh Legacy series #1)
by Bodie and Brock Thoene was an excellent read. Excitement was high throughout the book and I thoroughly enjoyed the descriptive language that was showered throughout it. I was drawn into the stories of Birch, Max, Ellis, and Jefferson.
This is the first book that I have read with different story lines happening at once. So, I disliked this format at first. Afterward, I got used to it and, actually, it enhanced the suspense in the book because the Thoenes would usually leave characters' stories at such critical points! Also, this book dealt with some serious immoral issues such as fornication; however, the Thoenes deal with these issues in the right way and in the end they contribute significantly to the series.
I love the way the Thoenes weave Christianity into the book in such a smooth way. The few sermons that are in the book were a blessing. Sometimes, they even made me want to shout AMEN! And the strong faith of the Canfield family was a breath of fresh air.
I enjoyed this book immensely and would highly recommend it.
I hope that you will look into these books and see if they are something you'd be interested in. All of these books are Christ centered and are good reads. Comment below if you have read them any of the books or if you have any suggestions. I'd love to hear them. Check back for more great books reviews