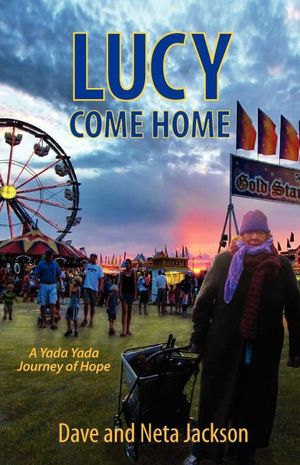 About the book:
Fifteen-year-old Cindy worked long days beside her migrant worker family in Michigan's sugar beet fields in the early 1940s -- the "war years" -- until she met a dashing young man from a traveling carnival, bringing some joy and fun into her hard-scrabble life. But a tragic twist of fate -- and a dead field boss-- sent the two young people on the run, leaving behind family and everything she'd ever known.
Lucy Tucker, the crotchety old bag lady from the popular Yada Yada House of Hope series, is a veteran of Chicago streets and not about to give up her independence, even as she approaches her 80th birthday.
Until, that is, a young displaced woman with her gentle aging mother and a dog named Dandy seem to need her -- unsettling the secretive Lucy, who doesn't let anyone get too close. But just when it seems her past is catching up with her to bring her in out of the cold... Lucy disappears again. How these two tales intersect and intertwine between past and present gradually shines light into the dark corners of Lucy's murky past. But... why won't Lucy come home?
My Review:
What a great read this was! A friend of mine told me that Dave and Neta Jackson were talented authors and I can say that their combined brilliance was undeniably seen in this novel.
By far, the highlight of this book was the humor. Little jokes were generously sprinkled throughout making my reading experience wonderful. I found myself laughing more than once at "the bag lady's" jokes.
Another highlight was Lucy's story. Readers get to know 80-year-old Lucy and of her rootless ways all while reading of events that occurred 65 years prior. Lucy's life is one of bitter trials that in my opinion were a bit too much. It seemed as though suffering was heaped upon her and she couldn't escape its clutch. I do not look at that point as a downfall in the book. Books that end in ways you hoped it wouldn't, are the best reads because oftentimes, your "endings" are perfect and in real life, nothing is perfect. Lucy's life is a reminder that we all face heartache, but in the end, we will find peace in God.
Dave and Neta are masters at creating imagery and writing with authority. I felt as though I was an onlooker, watching Lucy's life unfold. The plot grabbed my attention and the closing moments were bittersweet. The last words will surely put a smile on your face.
I know, you're not supposed to judge a book by it's cover and I want to enforce that "rule", because if we did, we'd miss out on great reads… like this one. When I first picked up this book, the cover did not intrigue me. It wasn't very artistic in my opinion. What probably deterred my was that it didn't look like the other books I read. Also the blurb of the book was written in gigantic font that made it look strange. I can look beyond that, though and am glad I did !
I rate this book 5 STARS! It was a compelling read, one that is sure to grip your heart, get a laugh or two, and possibly make your cry. I think that each person who reads this book will take something from it. I received this book from Litfuse Publicity in exchange for my honest review.
About Dave and Neta:
Dave and Neta Jackson are award-winning authors living in the Chicago area where their parallel novels from the Yada Yada House of Hope and Harry Bentley series are set.
As a husband/wife writing team, Dave and Neta Jackson are enthusiastic about books, kids, walking with God, gospel music, and each other! Together they are the authors or coauthors of over 100 books. Visit http://www.daveneta.com for more info.